bitcoinist
Bitcoin Shrimps Are Becoming Smarter, Here's Why
On-chain data suggests the smallest of Bitcoin investors, the shrimps, have been showing smarter behavior during this cycle.
Bitcoin Shrimps Accumulated During The Bear Market Crashes This Cycle
In a new post on X, the lead on-chain analyst at Glassnode,@_Checkmatey_, has discussed how the behavior of the shrimps has evolved in the BTC sector during recent years.
The "shrimps" here refer to investors who are carrying less than 1 BTC in their wallets. One way to track the behavior of these retail holders is through the shrimp "net position change," which measures the monthly increases or decreases that are taking place in the combined supply of this cohort.
The below chart highlights the trend in this Bitcoin indicator over the last few years: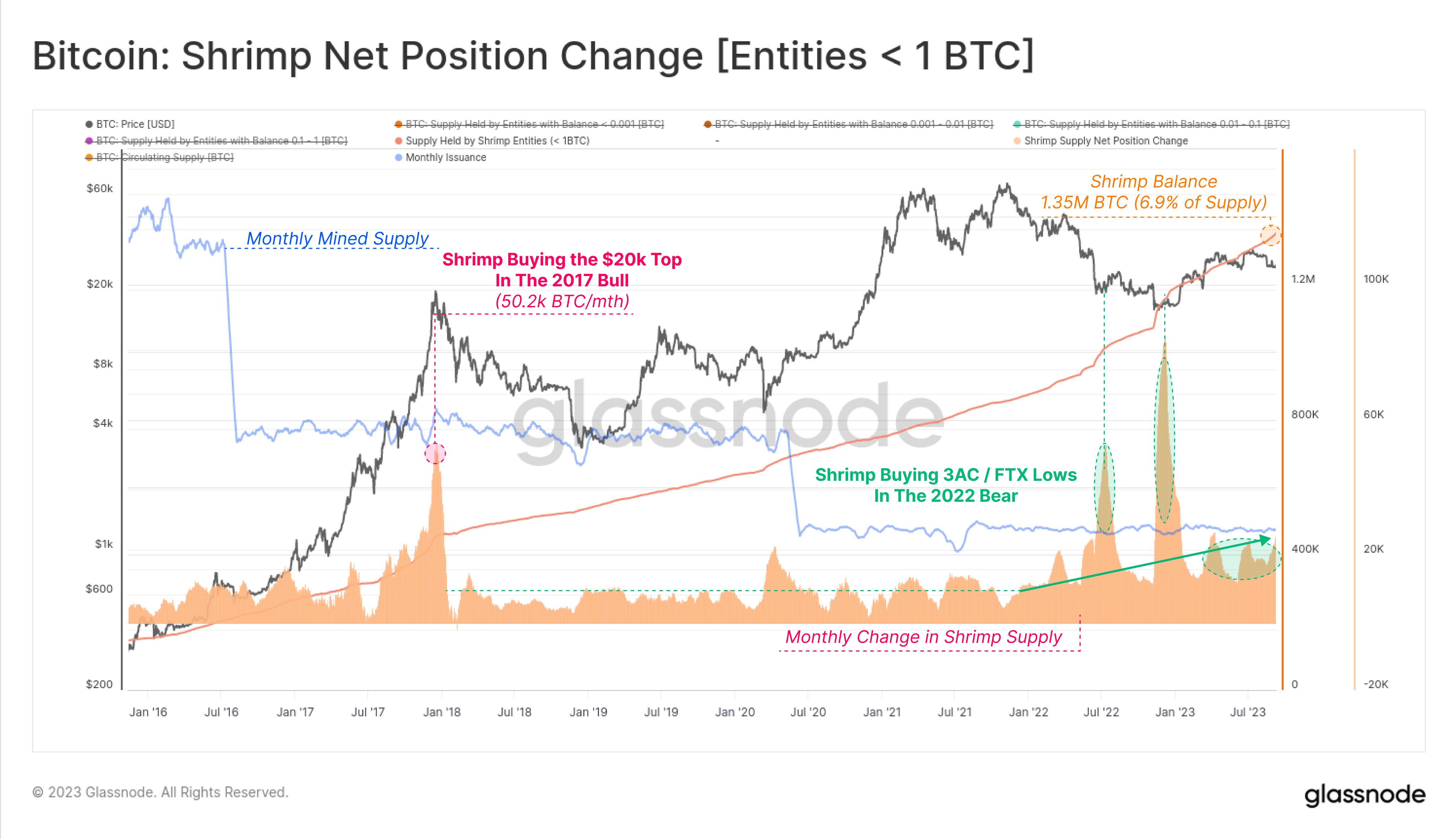 The data for the metrics related to the supply of these small investors | Source: @_Checkmatey_ on X
As is visible in the graph, the Bitcoin shrimps have been constantly expanding their supply during the past few years, as the monthly net position change has only assumed a positive value in this period.
There is a notable difference, however, in how these holders have accumulated during this cycle so far as compared to the previous one.
From the chart, it's clear that the highest spike in the shrimp net position change observed in the last cycle coincided with the bull market top. This means that the retail investors had come in late after they saw all the hype building up in the sector.
During this current cycle, however, there were no such spikes during the bull run tops in 2021. Instead, the shrimp net position change had surged to very high values during the 3AC and FTX crashes of the 2022 bear market.
The accumulation in these periods was also so intense that the monthly change in this cohort's supply was actually higher than the monthly amount that the miners were minting.
This implies that the Bitcoin shrimps weren't simply absorbing what the miners were producing; they were actively snatching coins away from entities larger than them.
Besides these two spikes, the shrimps have also continued to accumulate significant amounts throughout the bear market lows and the rally this year. Currently, this group is holding 1.35 million BTC in total, which is equivalent to about 6.9% of the entire circulating supply of the cryptocurrency.
The fact that these small investors have made a reversal in their behavior this cycle (that is, buying at the lows and not the tops) would suggest that they are paying attention and evolving.
"I believe this chart above all others presents the success of the tireless efforts, breadth of conversation, and shared wisdom of the Bitcoin education machine," says the Glassnode lead.
BTC Price
Bitcoin has been stuck in tight consolidation during recent weeks and so far, the asset isn't showing any signs that this might change, either, as its price is trading around the $25,600 mark.
Looks like BTC hasn't shown any significant deviations during the past few days | Source: BTCUSD on TradingView
Featured image from Dmytro Demidko on Unsplash.com, charts from TradingView.com, Glassnode.com