cryptonews
Justin Sun considers 'an offer' for FTX's crypto assets to prevent potential market crash
Tron founder and Huobi shareholder Justin Sun is considering buying FTX's assets amid potential asset liquidation by the bankrupt crypto exchange.
Tweeting on Monday, Sept. 11, Just Sun said that he is "contemplating an offer for FTX's holding tokens and assets to reduce their selling impact on the crypto community."
Sun's tweet comes amid fears of a potential market crash, as FTX is looking to sell its crypto assets worth $3.4 billion. The bankrupt crypto exchange led by Sam Bankman-Fried is seeking court approval to liquidate its crypto asset to sell off its tokens, with the hearing scheduled to be held on Sept. 13. 
As previously reported by crypto.news, FTX chose Galaxy Digital to help sell, stake, and hedge its crypto assets. According to the proposal, the decision to use Galaxy Digital was because of the company's experience in carrying out significant crypto sales without adversely affecting the market. 
However, as the date of the hearing draws near, market observers and participants have stated that the liquidation could result in massive selling pressure. Data shows that Solana (SOL) accounts for the largest share of FTX's $3.4 billion cryptocurrency portfolio, with $680 million, followed by the crypto exchange's native token FTT. Other assets include Bitcoin (BTC), Ethereum (ETH), and Aptos (APT).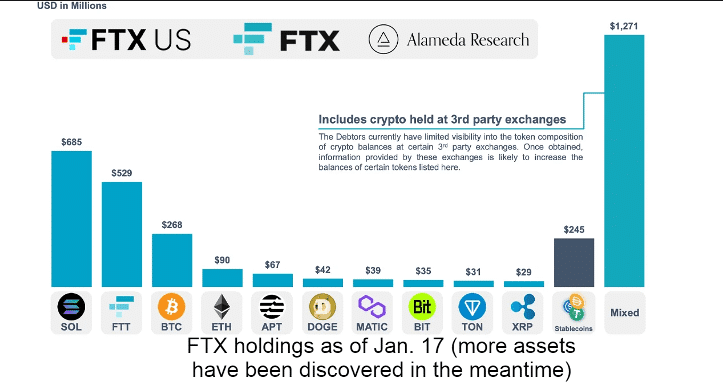 There have also been rumors that the bankrupt firm could dump its SOL holdings, causing panic among investors, with the token currently trading around $17.6.
Contrary to the narrative peddled on X (formerly Twitter), FTX will not be able to sell all of its SOL at once, as a large portion of the asset is locked up and will undergo monthly unlocking schedules that would last up till 2028. 
Follow Us on Google News