cryptodaily
JP Morgan Chase cuts its UK customers off from crypto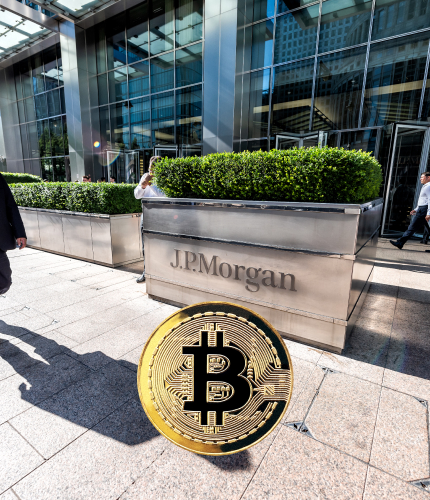 Table of Content
Chase bank has told its UK customers that any crypto-related payments by them will be declined. It cites "fraud and scams" as the reason for doing so.
"Then they fight you"
The "then they fight you" phase is well and truly in process. UK banks appear to be tripping over themselves to cut fiat rails off from crypto and thereby prevent the public from buying such crypto assets as Bitcoin.
There is no conversation with customers before carrying out such a move and there is no weighing up of the reasons why customers might want to buy Bitcoin at the very least in order to protect themselves from the heavy debasement of the fiat currency they hold at banks like Chase.
Bank fraud and scams
For banks, Bitcoin is absolute anathema. It is an asset beyond their reach to control and manipulate. They were able to do this extremely well in the case of gold and silver by manipulating the paper futures markets to keep the price down and be able to buy these metals on the cheap.
A press release on the Department of Justice website included the following quotes by Acting Assistant Attorney General Brian C. Rabbitt, on JP Morgan Chase behaviour at the time:
"For over eight years, traders on JP Morgan's precious metals and U.S. Treasuries desks engaged in separate schemes to defraud other market participants that involved thousands of instances of unlawful trading meant to enhance profits and avoid losses,"
He added:
"Today's resolution — which includes a significant criminal monetary penalty, compensation for victims, and requires JP Morgan to disgorge its unlawful gains — reflects the nature and seriousness of the bank's offenses and represents a milestone in the department's ongoing efforts to ensure the integrity of public markets critical to our financial system."
This is just one example of many serious "fraud and scams" carried out by this bank. This particular misdemeanour was penalised to the tune of $920 million.
Preparing the way for CBDCs
Much conjecture on social media abounds that Chase is just another bank preparing the way for the imposition of a central bank digital currency (CBDC). This would make control of recalcitrant citizens total, enabling the central banks to cut anyone off from banking at the flick of a switch without having to embark on any legal process, following in the footsteps of the Canadian government which froze and seized bank accounts of citizens who supported the truckers in Ottawa early in 2022.
This is a momentous time in history. Banks are fighting for their lives at a time when they are starting to be seen as obsolete and controlling entities that are not meeting the needs of their customers.
Technology can never be suppressed for long, and banks are facing the competition of private currencies that are fast, secure and need no middlemen. It's just a matter of how long this clash between governments/banks and crypto lasts.
Disclaimer: This article is provided for informational purposes only. It is not offered or intended to be used as legal, tax, investment, financial, or other advice.