bitcoinist
Analyst Reassesses Odds After Ark's Delay
In a surprise move, the US Securities and Exchange Commission (SEC) announced an early delay of ARK Invest's and 21Shares Bitcoin spot ETF application on Tuesday, September 26, which was originally scheduled to be decided by November 11. At the same time, the regulator postponed GlobalX ETF's application, which was to be decided on October 7.
Following the decision, Bloomberg Intelligence ETF analyst, James Seyffart, expressed his surprise on Twitter: "The SEC just came out SUPER early and delayed the ARK Invest / 21Shares Bitcoin ETF filing… This may put the hammer down for any hopes of an ETF approval this year? If they went on Ark/21 shares already, we may see delays on all the other filings today too?"
With multiple applications, including those from BlackRock, Bitwise, VanEck, Invesco, Wisdomtree, Fidelity, and Valkyrie, scheduled for mid-October, the landscape of ETF approvals seems uncertain.
Bitcoin Spot ETF Odds On Trial
Seyffart didn't hesitate to speculate on the potential influences behind the SEC's decision. He pointed to a letter from both Republican and Democratic congressmen to SEC Chairman Gensler. In their letter, the congressmen Mike Flood, Wiley Nickel, Tom Emmer, and Ritchie Torres stressed the importance of "immediately" approving spot Bitcoin ETFs, emphasizing that such regulated investment avenues would enhance investor protection by ensuring more transparent and secure access to Bitcoin.
Referencing the court decision in the case between Grayscale and the SEC, their letter stated: "Congress has a duty to ensure that the SEC approves investment products that meet the requirements set out by Congress. To that end, we urge you to approve the listing of spot Bitcoin ETPs immediately."
Delving further into the odds of a Bitcoin spot ETF approval, Seyffart referenced his previous predictions: "We were at 75% before this. Likely going down on the back of this." However, he indicated that the Grayscale GBTC court case remains a primary factor determining these odds. "The main catalyst for 2023 has always been what happens next with the GBTC court case," Seyffart mentioned.
Earlier this year, Bloomberg experts Eric Balchunas and James Seyffart had estimated a 75% chance for a Bitcoin spot ETF approval in 2023 and 95% by the end of 2024, especially after Grayscale's legal victory over the SEC.
On being probed about the GBTC court case timeline, Seyffart responded: "Unknown. Which is why things have been so up in the air. We should have a better idea of next steps by 10/13 at the latest." The SEC's window to appeal Grayscale's August court victory closes on Oct. 13, a date keenly watched by many as a potential turning point.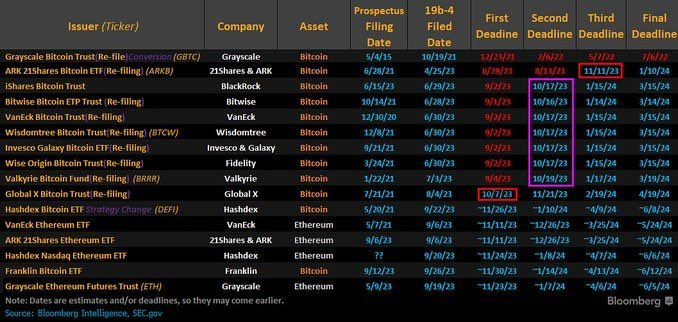 Another industry perspective came from Nate Geraci, President of the ETF Store and host of the ETF Prime podcast, who hinted at a broader contextual issue: "Government shutdown could potentially impact spot Bitcoin ETF decisions due in October… After 10+yrs, what's another few months at this point."
This government shutdown Geraci mentions is on the horizon and could potentially cause further delay. As Reuters reported yesterday, the US Senate recently passed a bipartisan initiative to avert the shutdown, but the outcome is open. Remarkably, the looming shutdown adds complexity to an already complicated regulatory landscape.
At press time, the Bitcoin price was unfazed by the news, trading at $26,278.
Featured image from Shutterstock, chart from TradingView.com