cryptodaily
Jia Expands Credit Solution on Huma to Foster Growth and…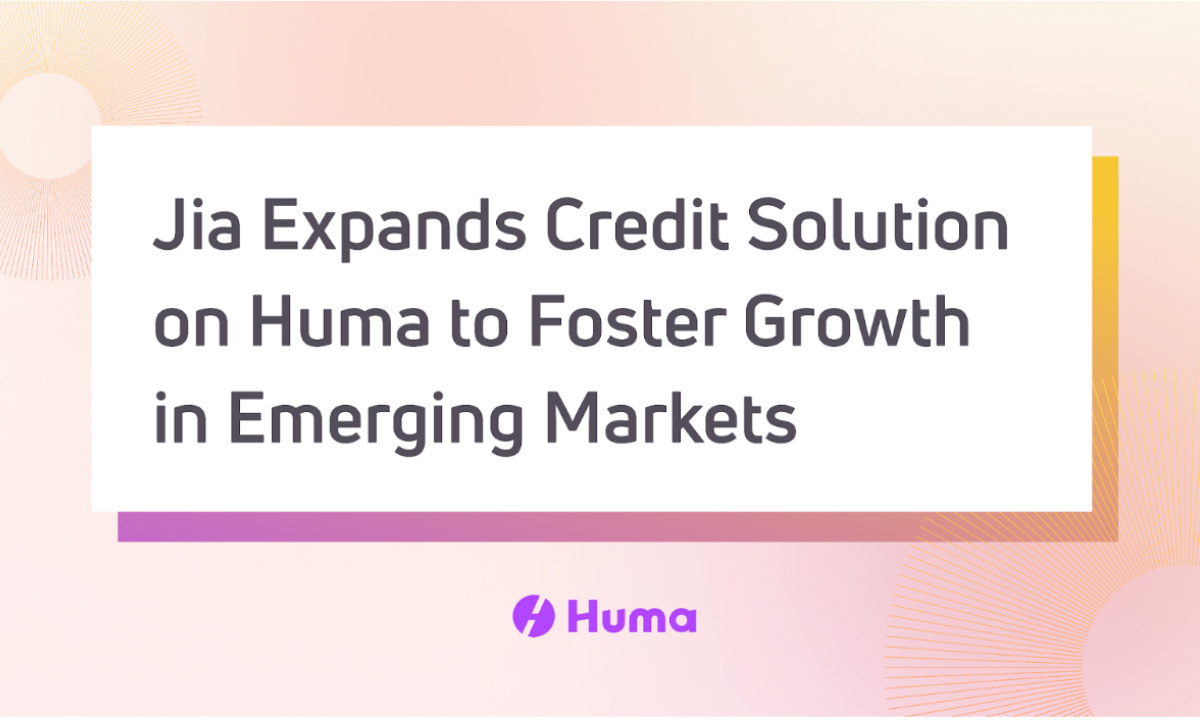 San Francisco, California, August 1st, 2023, Chainwire
Addressing a $5 trillion global credit gap in emerging markets, Jia, which connects capital to small businesses in every corner of the world, scales up its credit solution on Huma, which builds infrastructure for real-world lending.
Two months after launching its credit solution on the Huma platform, Jia is expanding its reach to accommodate the robust demand for credit in emerging markets, along with an increase in liquidity supply.
"We are delighted to facilitate Jia's innovative approach to lending. Our platform's infrastructure is designed to foster next generation lending solutions, and together we're showcasing what fair and transparent lending looks like, making a tangible difference in people's lives." says Erbil Karaman, CEO and Co-founder of Huma Finance.
There is a $5 trillion credit gap in emerging markets, with many individuals lacking access to formal credit and the small business financing ($500-$2,000) they need, halting their day-to-day business interactions and ability to serve their communities.
By utilizing Huma's DeFi infrastructure, Jia can expedite transactions with fairness and transparency, creating opportunities for entrepreneurs to grow their businesses. 
Jia is dedicated to serving small businesses in emerging markets. The company launched a $100,000 pool on Huma in May, which it has used to originate loans to more than 500 borrowers in Kenya and the Philippines. 
Within the next six months, Jia is planning to scale up their credit solution even more to $500k, an increase of 400%. This growth projection sets the tone for a further 5x increase in a year's time given the borrower and lender demand.
Jia's pool reached full subscription less than 24 hours after launching, signaling a strong interest from accredited investors interested in this asset class. 
The capital raised has already created transformative change in these small businesses.
With stories of borrowers like Dr. Elishaphan Obuya, a medical practitioner from Kisumu, Kenya, Jia's impact becomes tangible. Dr. Obuya, the founder of Shepher Lifecare, offers a range of medical services to hundreds of patients monthly. With Jia's credit solution, facilitated in partnership with Ilara Health, Dr. Obuya borrowed 142,800 KES ($1,012) to maintain a crucial supply of lifesaving medicines in his clinic.
Another inspiring story comes from Kristel Erestingcol in Manila, Philippines. Kristel operates a sari-sari store, serving her community with essential food items and school supplies. With a Jia loan of PHP 10,000 ($182), her second from the platform, Kristel has not only been able to buy more inventory in bulk at lower prices, but also expand her store's offering into new product lines including school uniforms and clothing. 
"Our mission is to drive economic growth in emerging markets by breaking down financial barriers. The extension of our credit solution on Huma is a testament to the potential we see in these markets," says Zach Marks, CEO and Co-founder of Jia.
Jia's expansion on the Huma platform is a strong signal of how DeFi can move away from speculative use cases, and allow entrepreneurs and small businesses in emerging markets to access digital financial resources. 
Together, Jia and Huma are working on a roadmap to roll out features for a seamless real-world lending experience.
With the financial ecosystem becoming increasingly borderless and inclusive, the realization of global financial freedom seems within grasp.
About Jia
Jia is expanding financial freedom across the globe. Jia provides blockchain-based financing to small businesses, then rewards borrowers who repay with ownership, enabling them to create wealth and prosperity for themselves and their communities. Learn more https://www.jia.xyz/.
About Huma Finance
Huma Finance builds the infrastructure powering an ecosystem for real-world lending solutions. With a mission to make the crypto industry more accessible and supportive of practical use cases, Huma Finance enables borrowing against cash flows and receivables, opening up new possibilities for individuals and businesses around the world. Learn more https://huma.finance/.
Contact
Communications & PR
Mia Grodsky
Huma Finance
[email protected]