On-chain data shows that large Chainlink holders have been buying during the past two weeks, a sign that's positive for the coin's rally.
Chainlink Sharks & Whales Have Added Another $53 Million In LINK
As pointed out by analyst Ali in a post on X, the large LINK investors have been buying recently. The indicator of interest here is the "Supply Distribution," which measures the total amount of Chainlink that the different wallet groups on the network are holding right now.
Addresses are put into these groups based on the total number of coins that they are carrying in their balances. The 10-100 coins cohort, for instance, includes all wallets that are holding at least 10 and at most 100 LINK.
In the context of the current discussion, all investor groups inside the 10,000 to 1 million coin range are of relevance. At the current exchange rate, these bounds convert to about $77,200 and $7.72 million, respectively.
Large entities like the sharks and whales make up this cohort and since these investors can be influential because of their large holdings, their behavior can be worth tracking.
Here is a chart that shows how the Chainlink supply held by these humongous holders has changed over the last couple of months: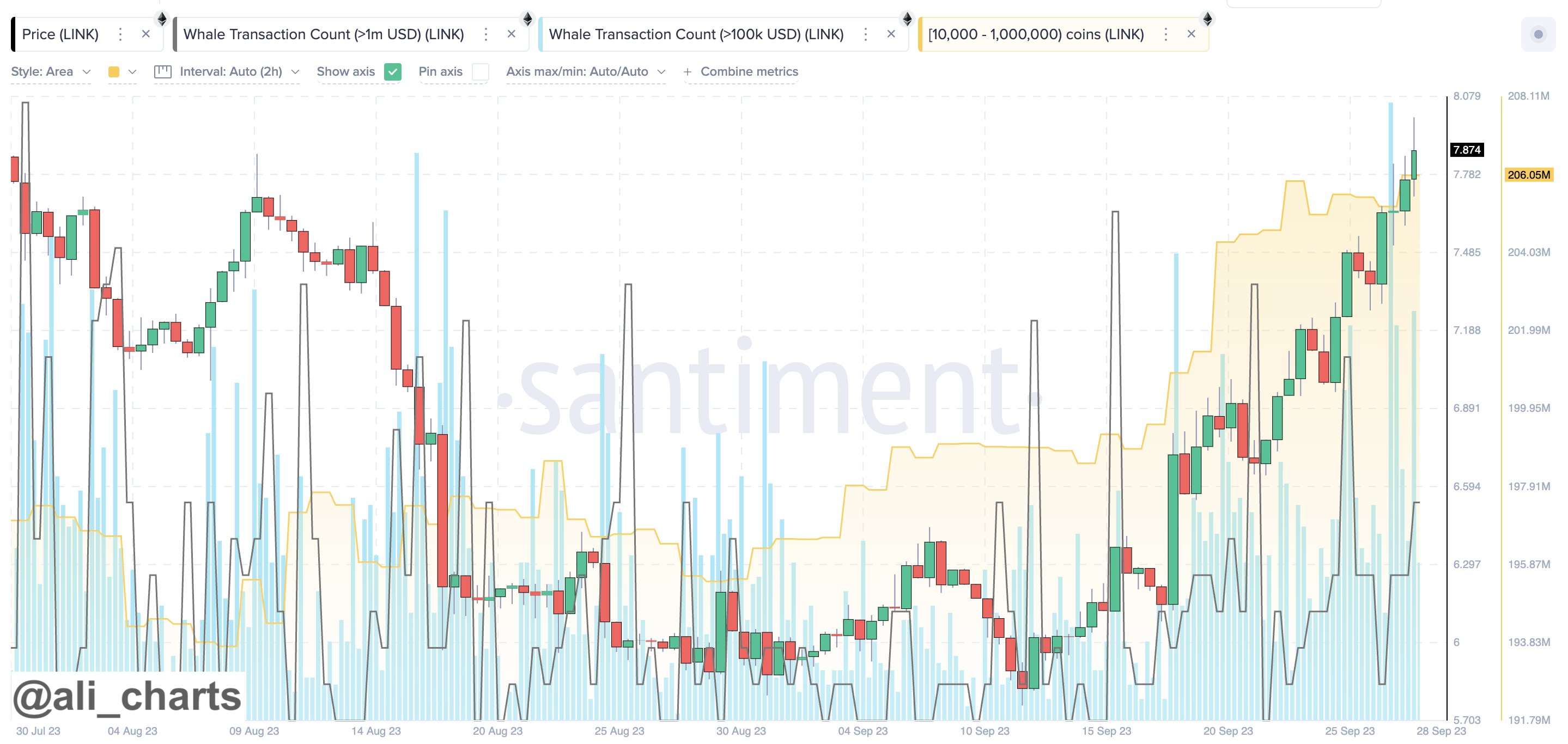 The value of the metric seems to have gone up in recent days | Source: @ali_charts on X
As displayed in the above graph, the Chainlink supply held by the 10,000 to 1 million coins investors has seen some increase recently, implying that these holders have participated in a net amount of buying.
In the past couple of weeks, these sharks and whales have bought about 7.5 million LINK, which is equivalent to about $58 million at the current value of the cryptocurrency.
While this amount itself isn't too large (at least when compared to the total holdings of these investors, which is about 206 million LINK after these purchases), it's an optimistic sign that these investors have chosen to accumulate in a period where Chainlink has observed some sharp bullish momentum.
LINK Has Gone Up 30% During The Past Month
Chainlink has enjoyed a rapid rise during the last month, as its price has shot up by around 30% and has breached the $7.7 level, as the below chart shows.
Looks like the value of the asset has sharply gone up during the past few weeks | Source: LINKUSD on TradingView
LINK has grown by 14% in the past week alone as the cryptocurrency has only continued to experience bullish winds. In a period of such a rapid increase, it wouldn't be too surprising if the larger entities in the market sold and took their profits at the current levels.
As the Chainlink sharks and whales have held their ground and only expanded their holdings, though, it would appear that these humongous investors are still bullish on the asset and believe that the run isn't over just yet.
Featured image from Shutterstock.com, charts from TradingView.com, Santiment.net